An Interview with Ellipsis Press
Don't be too upset: it's our last interview. Reminisce and check out the others here.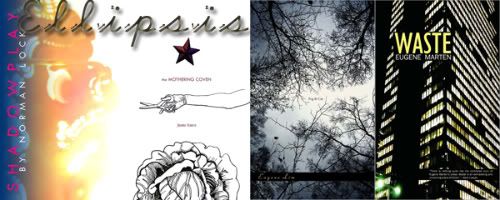 What makes your press different from other publishers?
Ellipsis Press
publishes innovative writers who succeed in making new forms in order to express something previously unexpressed, to expand the realm of the articulable. Our books might fall under the heading of "experimental literature," though many people react negatively to the label as it brings to mind opaque styles with no emotional or intellectual payoff, but which we take issue with mostly because it's redundant.
Dalkey Archive, Sun & Moon, McPherson, Coffee House, Calamari, Fairy Tale Review Press, Starcherone, Black Square Editions are just a few of the great small or independent presses in whose tradition and company we hope to belong.
What's a recent book you're excited about?
In the spring of 2010 we're going to publish an anthology based on writings that have appeared in the online literary journal, Harp & Altar. Along with some fantastic poetry, it's a great and broad collection of innovative fiction. I believe it represents well what the press is about and the type of work we're interested in publishing.
What advice do you have for emerging writers looking to be published by a small press? What is it about a work that makes you want to publish it?
One person's gutsy transgression is another's mere novelty. What we're looking for is structural or stylistic innovation which also has an intellectual and emotional payoff. This pleasure should be fairly immediately apparent, i.e. not overly delayed or latent (though we can be teased). We will often jump randomly to pages and read whole paragraphs; if your work has a consistency of purpose and language, we'll read more. A great density of references to theoretical texts and/or trendy leftist political slogans and/or graphic and non-ending descriptions of sex or drug episodes generally does not tip the balance in your favor.